The gold price reaches 2,000 US dollars for the first time in history
On August 4th 2020 the gold price for the first time surpassed 2,000 US dollars.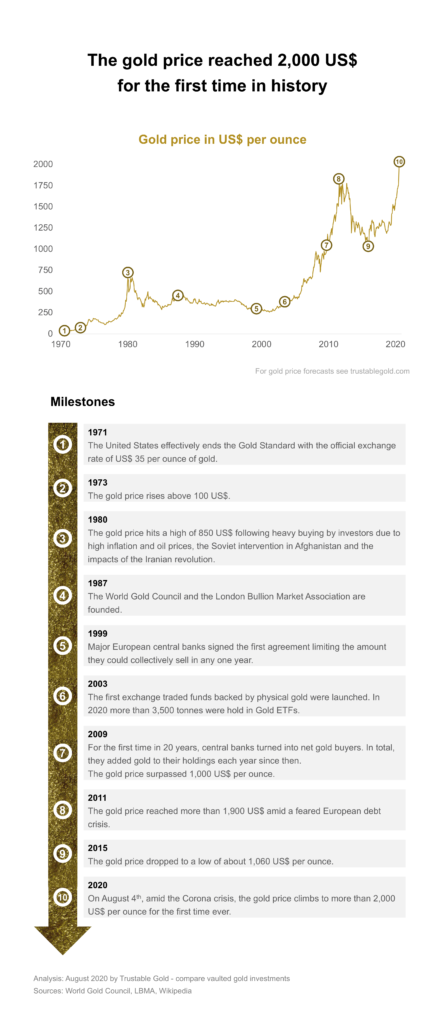 Key milestones for gold over the last decades:
1971
The United States effectively ends the Gold Standard with the official exchange rate of US$ 35 per ounce of gold.
1973
The gold price rises above 100 US$.
1980
The gold price hits a high of 850 US$ following heavy buying by investors due to high inflation and oil prices, the Soviet intervention in Afghanistan and the impacts of the Iranian revolution.
1987
The World Gold Council and the London Bullion Market Association are founded.
1999
Major European central banks signed the first agreement limiting the amount they could collectively sell in any one year.
2003
The first exchange traded funds backed by physical gold were launched. In 2020 more than 3,500 tonnes were hold in Gold ETFs.
2009
For the first time in 20 years, central banks turned into net gold buyers. In total, they added gold to their holdings each year since then.
The gold price surpassed 1,000 US$ per ounce.
2011
The gold price reached more than 1,900 US$ amid a feared European debt crisis.
2015
The gold price dropped to a low of about 1,060 US$ per ounce.
2020
On August 4th, amid the Corona crisis, the gold price climbs to more than 2,000 US$ per ounce for the first time ever.